Hearing Aid Estimated Market Share AND How to choose your make
The relative worldwide success of each of the 'big 6' companies involved in hearing aid manufacture cannot be ignored. This does not happen by mistake.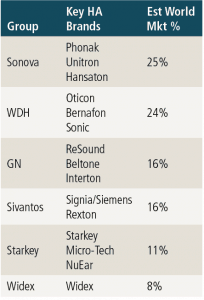 From hearingreview.com
So we tend to pay attention to what Phonak and Oticon are doing. I'm of the opinion that GN are sitting in 3rd place because they were first to market with a 'made for iPhone' hearing aid, and because their remote control app is quite understandably the best and most well-developed.
In 4th place is Sivantos, who are in final merger talks with Widex, and in 5th place are Starkey, a family-run company who struggle a little in Europe but do much better in the USA.
My argument is that it's pretty straight-forward for consumers to figure out what they should be looking at.
GET A FREE TRIAL
with a Phonak or Oticon product. At a UK level, Phonak is widely available including Boots and Specsavers. Oticon is slightly trickier – it's retail arm is Hidden Hearing, and most good independents stock Oticon as well.
IF YOU HAVE AN iPHONE AND LIKE THE CONNECTIVITY
then GN Resound should be considered too.
IF YOU ARE VERY INTO MUSIC
then Widex Evoke has the shortest mic-to-receiver processing time, so you need to try Widex.
IF YOU CAN GET A BIG ENOUGH DISCOUNT
then Starkey or Sivantos could be a good bet. But in this market, you also have Bernafon and Unitron (sub-brands of Oticon and Phonak).
AS HOW ONE GETS ON WITH HEARING AIDS IS SUCH AN INDIVIDUAL THING,
then I don't see how one has 'time' to explore this any further?