Starkey Livio AI
[vc_row type="in_container" full_screen_row_position="middle" scene_position="center" text_color="dark" text_align="left" overlay_strength="0.3″ shape_divider_position="bottom"][vc_column width="1/6″ column_padding="no-extra-padding" column_padding_position="all" background_color_opacity="1″ background_hover_color_opacity="1″ column_shadow="none" column_border_radius="none" tablet_text_alignment="default" phone_text_alignment="default" column_border_width="none" column_border_style="solid"][/vc_column][vc_column width="2/3″ column_padding="no-extra-padding" column_padding_position="all" background_color_opacity="1″ background_hover_color_opacity="1″ column_shadow="none" column_border_radius="none" tablet_text_alignment="default" phone_text_alignment="default" column_border_width="none" column_border_style="solid" css=".vc_custom_1561999907423{background-color: #ffffff !important;}"][vc_row_inner][vc_column_inner css=".vc_custom_1561999778642{background-color: #ffffff !important;}"][vc_column_text]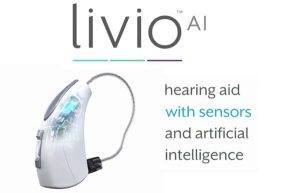 [/vc_column_text][/vc_column_inner][/vc_row_inner][vc_column_text]
STARKEY LIVIO AI (Premium – RIC style)
Alternative: Starkey Halo IQ i2400: Less expensive version.
Our Verdict:
An interesting alternative – lots of ancillary features…
In today's competitive market, you should be able to negotiate a free trial on all hearing aids. Just ask.
PRICE TO PAY:  Around £2800 to £3500 for a pair
---
APPEARANCE AND FEEL:
(the weight, size, shape, how well it fits ergonomically to the ear; the thickness and flexibility of the wire; the shell construction, quality, finish, IP properties, construction of buttons / switches / battery compartment)

A large shell, relatively. Well made, with a nice touch panel, instead of a button.
---
SOUND PRODUCTION:
(tested for how natural sounds are; how owner's voice sounds; quality of classical and popular amplified music; naturalness of everyday quiet sounds such as indicator click, and loud sounds such as toilet flush, wind)

Because of limited outlets offering this, it might not be getting the chance it deserves. As we use independent audiologists, we can say we have tested this – it's comparable to the LiNX Quattro.
---
BACKGROUND NOISE PERFORMANCE:
(how well the instrument appears to cope with the suppression of background noises, such as party speech babble, traffic noise, loud wind noise, car engine sound)

Seems good, but a little erratic in high noise environments?
---
EASE OF PROGRAMMING:
(from the audiologist perspective – how easy and user-friendly the programming software is: this can affect the quality of the results for the end-user)

Surprisingly nice when you get your hands on it.
---
MAINTENANCE & RUNNING COSTS:
(cost of out-of-warranty repairs, cost of shell repairs, spare parts, ease of procuring replacement parts, consumables such as domes, wax guards, receiver wires; shell integrity when put under stress)

Parts are expensive.
---
OTHER COMMENT:
If you are testing 'made for iPhone' aids, this should be considered.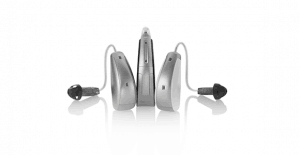 OVERALL:

For App fans
Review by AJ (April 2019)[/vc_column_text][/vc_column][vc_column width="1/6″ column_padding="no-extra-padding" column_padding_position="all" background_color_opacity="1″ background_hover_color_opacity="1″ column_shadow="none" column_border_radius="none" tablet_text_alignment="default" phone_text_alignment="default" column_border_width="none" column_border_style="solid"][/vc_column][/vc_row][vc_row][vc_column width="1/6″][/vc_column][vc_column width="2/3″][/vc_column][vc_column width="1/6″][/vc_column][/vc_row]