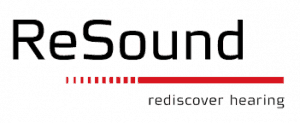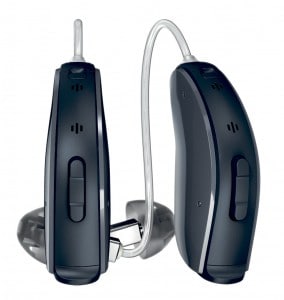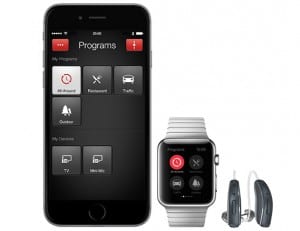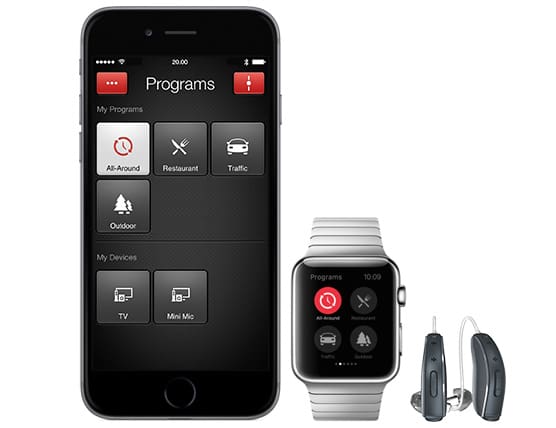 ReSound LiNX Quattro
provides effortless hearing in the most true-to-life way. Spatial Sense™ gives you a natural sense of where sounds are coming from and helps you form a detailed sound picture of your surroundings. And, in a noisy listening situation, Binaural Directionality™ II makes sure you can still understand every word of the conversation"
---
RESOUND LiNX Quattro 9 (Premium hearing aid – RIC style)
Our Verdict: An amazing product IF you own an iPhone, enjoy gadgets and value the idea of streaming music and audio. Limited functionality via Android phones.
In today's competitive market, you should be able to negotiate a free trial on all hearing aids. Just ask.
Alternative: The Resound LiNX Quattro 5 is almost as good for a much lower price tag.
PRICE TO PAY: Around £3000 for a pair of LiNX Quattro 9 RICs and £1800 for a pair of 5's
---
APPEARANCE AND FEEL:
(the weight, size, shape, how well it fits ergonomically to the ear; the thickness and flexibility of the wire; the shell construction, quality, finish, IP properties, construction of buttons / switches / battery compartment)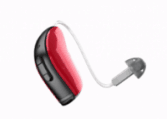 Attractive design, well put together. Not a bad size considering the wireless properties and its ability to work directly via an app.
---
SOUND PRODUCTION:
(tested for how natural sounds are; how owner's voice sounds; quality of classical and popular amplified music; naturalness of everyday quiet sounds such as indicator click, and loud sounds such as toilet flush, wind)

The LiNX Quattro sounds ok. It is rather harsh on loud high notes.
---
BACKGROUND NOISE PERFORMANCE:
(how well the instrument appears to cope with the suppression of background noises, such as party speech babble, traffic noise, loud wind noise, car engine sound)

The LiNX Quattro seems to adjust very evenly to background noises. Very competent when compared with most rivals.
---
EASE OF PROGRAMMING:
(from the audiologist perspective – how easy and user-friendly the programming software is: this can affect the quality of the results for the end-user)

Wireless connection is superb via Airlink2. Occasional unwanted feedback sound when connecting or if aids are removed mid-programming, Fitting advice section is squashed.
---
MAINTENANCE & RUNNING COSTS:
(cost of out-of-warranty repairs, cost of shell repairs, spare parts, ease of procuring replacement parts, consumables such as domes, wax guards, receiver wires; shell integrity when put under stress)

Parts are rather expensive.
---
OTHER COMMENT:
The app (fully functional on iPhone) is what has made this hearing aid so popular. You can stream phone calls and music straight into the aids, and the remote control features are wide and varied. Recent price drops will make the product even more appealing. A good choice if you own an iPhone.
---

Overall score in class
By MR (Oct 2018)