www.hearingaidreview.org.uk has been put together by me, Robert Donnan. I'm an independent private 'hearing aid dispenser' (HCPC registered). This is the protected name qualification required in the UK to be able to 'sell' or prescribe hearing aids. There is a general habit of 'us' describing ourselves as AUDIOLOGISTS. I am personally ok with this term, even though it is primarily used to describe an NHS trained person who measures hearing. It is not a protected term, and describes a person concerned with the measurement and understanding of hearing levels.
It is regrettable that the qualifications required are often over-stated.  So I am seeing terms such as consultant audiologist, cerumenologist and consultant which must be an attempt to overstate our qualifications?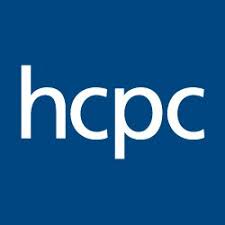 The skill required to program a hearing aid is extremely minimal. The labour required to explain outcome expectations, the rehabilitation period, how to use hearing aids; and the servicing needed after purchase is where all the value is be gained. So my job is all to do with HARD WORK, PATIENCE, PERSEVERANCE and being part of an organised business that is capable of actually providing the long term package included in the price. I myself have worked a minimum six days a week for over 10 years in my attempt to uphold my duties.
It's a tough job providing products that most people don't want to face up to getting in the first place, and meeting people's expectations of how they should hear in background noise, which are often, frankly, not met.
So, there is a lot of hype and 'sales'/ overly optimistic language used when discussing private hearing aids (see an example below). This is as a result of the high level of consumer scepticism and doubt, the NHS hearing aid availability, the difficulty in defining how well a person actually hears (it's very individual and opinion-driven) and the low level of training required to become a private hearing aid dispenser.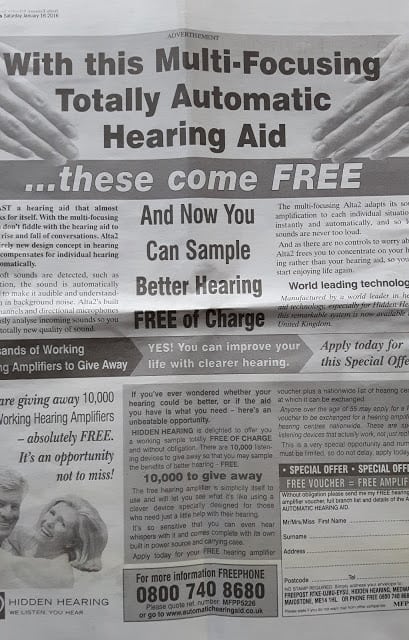 You need to approach this subject with great CARE, DILIGENCE, SUPPORT from someone who's opinion you value and in my humble opinion, you should demand an UNCONDITIONAL FREE TRIAL.
What's a private hearing aid dispenser?

Who reviews hearing aids for us?
Our 3 testers are real hearing aid wearers.
Right now, by coincidence, all three are male.
All three are employed in the IT sector.
All have suffered from a long term or congenital complex hearing loss, ranging from mild-to-moderate, severe to profound.
They have all agreed to test new hearing products that come to market in return for receiving free hearing aids. Each model tested by all three persons is evaluated in short, easy-to-understand language that we can all understand.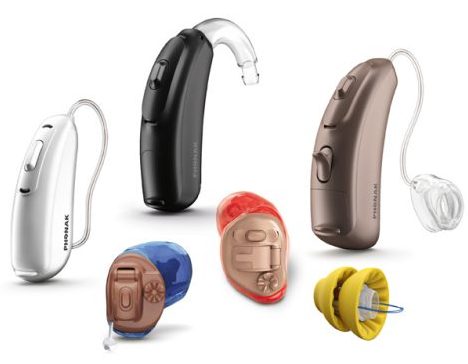 So this is not your typical hearing aid review website
We are not including end-users who will typically bundle the service they have received together with the hearing aid sound quality.
We are not including audiologists' views.
Nor are we listing manufacturers' blurb.
Our idea is to get 'into' the products themselves, so in effect, this is a hearing aid product review website.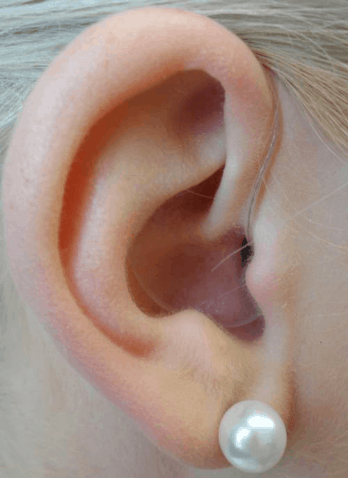 Which hearing aids are our 3 REVIEWERS wearing day-to-day?
BL is wearing OTICON OPN 1 with micro moulds.
AD is wearing SIGNIA NITRO power BTEs with Starkey E2108 ear moulds.
MR is wearing PHONAK AUDEO V90 10 with ComPilot Air II.
How do we decide which hearing aids to test?
We are influenced by world & European sales:
So we'd be more inclined to try hearing aids from the following:
Phonak
Oticon
Resound
Starkey
Widex
Signia
in that order.
Stars that rate hearing aids are often NOT REVIEWS
These are instead arbitrarily placed next to hearing aid models as an opinion by the author only. You can spot this straight away as older models / lower spec. models will be marked with less stars, and the most expensive models with 5 stars.
OCTOBER 2018
Best Overall Hearing Aid
Oticon Opn 1
Best 5 Professional Hearing Aids
Oticon Opn 1
Phonak Audeo M90
Phonak Audeo M90-R
Phonak Audeo B90-10
Resound LiNX Quattro 961
Best Mainstream Hearing Aids
Phonak Audeo M50-R
Resound LiNX Quattro 561
Phonak Audeo M50-D
Phonak Audeo V50-10
Oticon Opn 3
Best Budget Hearing Aids
Phonak Audeo V30-10
Phonak Virto V30 CIC
Phonak Virto Q30 CIC
MOST POPULAR QUESTIONS
Why are hearing aids so expensive?
High refund rates of High Street chains
Variability of hearing outcomes
Difficulty in assessing improvements
Labour intensive (fine tuning appointments)
What's the Best Hearing Aid?
The one that you like the best
You can only discover this through a trial process
Oticon Opn 1 is the most technologically advanced hearing aid
However, some of our best reviews are from people that have not spent a lot of money (purchased budget hearing aids)
Where's the best place to go?
We are biased – & believe Independents offer the best overall experience
Which? magazine agrees: in their last 3 surveys of end-users' findings
Boots score well in second place, as the best large retailer
The Independent you visit should be well established, with good evidence of service (reviews)
It is advisable to deal with someone quite local to you
What do they cost?
Thanks to the internet, there is now a fairly clear understanding about what these cost
The most expensive products cost about £3000 per pair. If you seek out the better suppliers, you might have to pay £4000
Two-thirds of what you pay is for the after care (not the hearing aids)
Continuity of service is very important (so many dissatisfied users comment that the person they saw was different every time)
What makes a great hearing aid?
Primarily, it will be your willingness and diligence.
A trial before you pay anything always helps.
Pay some attention to world sales figures.
Oticon and Phonak are doing the best.